All Star Football Goalpost
Regular price
$4,499.00
Sale price
$4,134.00
Save $365.00
/
✓ No Sales Tax (Except in Minnesota)
✓ Shipping rates may apply on certain items
✓ Need Help? Contact us: info@zestysports.com
✓ Lowest Price Guaranteed!
✓ Exclusive: Get 3% off with discount code:

ZSQ2
---
All Star Football Goalpost

Item Condition: Brand New In Packaging 
Description: 
First Team's All Star football goalposts are perfect for any program on any budget! The All Star series sports a 4 1/2" diameter steel post that has a galvanized undercoating while the 4 1/2" diameter crossbar and 2 3/8" diameter uprights are made from rust free aluminum.

First Team's All Star series has built in crossbar and upright leveling features that make straight, professional installation a breeze. First, the All Star has a unique telescoping nosecone design that allows the overhang distance to be extended anywhere from 6' to 6' 6". So no matter what, the crossbar comes out dead even with the back of the endzone every time. Second, the nosecone attachment allows the crossbar to be leveled at time of assembly. Third, each upright is attached to an adjustable corner elbow that is fully rotational allowing the uprights to be assembled perfectly straight every time. 

All Star packages are available with crossbar lengths of 23' 4" for high school or 18' 6" for college. See options below for model numbers. Post pads with are available for any All Star goalpost package. Remember, post pad lettering is included free when you purchase a post pad with your All Star football goalpost.

All Star football goalposts are available with safety yellow powder coat finish. Wind direction streamers are included. All Star football goalposts are covered by First Team's 10-Year Limited Warranty.
2 3/8" diameter aluminum uprights

20' uprights

4 1/2" diameter steel post with galvanized undercoat for rust-free protection

Adjustable overhang from 6' to 6' 6"

Adjustable uprights for easy leveling

4 1/2" rust-free aluminum crossbar

48" bury - order FT6004 ground sleeve for removable post

Optional post pad and free lettering with purchase
Variations: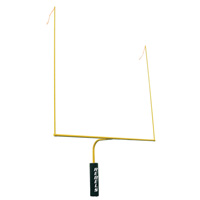 All Star HSC-SY
23' 4" Crossbar

Safety Yellow

Approx. Shipping Weight: 500 lbs. 

10-Year Limited Warranty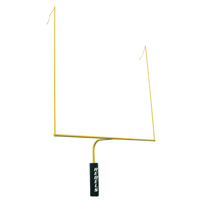 All Star CLG-SY
18' 6" Crossbar

Safety Yellow

Approx. Shipping Weight: 500 lbs. 

10-Year Limited Warranty